Retirement planning can be complex and feel overwhelming, but you don't have to do it alone.
We can help you navigate your way through any concerns you may have.
Retirement can offer promise and opportunity, but it also can be a stressful time that leaves you scrambling to find financial solutions. Where will you go next, and how can you achieve long-term financial confidence?
One of the central challenges of retirement is a matter of preservation: making your finances last. If we break it down, you may ask several questions:
How can I combat inflation?
What should I do if the market dips?
How will the tax environment affect my retirement lifestyle?
What if I live longer than anticipated?
Have I adequately prepared my estate to care for my loved ones?
Rick and Megan Clark deftly address these questions and many more, intertwining their research with personal stories from their experience in the financial services industry.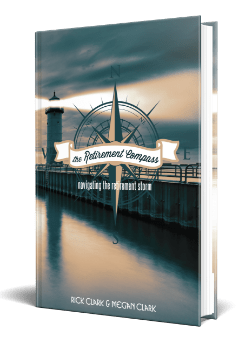 Megan Clark
CEO and Owner of Clark & Associates, Inc.
CEO and Owner Megan Clark grew up learning about the business and fell in love with helping clients. Her passion for helping others is fulfilled with every client the firm supports and guides toward a Brighter Financial Future. When her father, Founder Rick Clark, retired, he knew Clark Financial and its clients would be in good hands. Megan has been recognized for several achievements, including Forbes Next Gen Best-In-State Wealth Advisors 2019 and America's Top Women Advisors 2020. Outside of the office, Megan enjoys spending time with her husband, James, and their puppy, Chloe.
Rick Clark
Founder of Clark & Associates, Inc.
Rick was the founder and original visionary of Clark Financial. He was born and raised in Newburgh, NY, where he attended Newburgh Free Academy before attending Embry-Riddle Aeronautical University and James Madison University. Rick was a force to be reckoned with and left behind a remarkable legacy, including his life's work creating Clark Financial Solutions. He was a devoted father dedicated to ensuring his children learned life's most useful and valuable lessons. He was the most gracious and generous person and always wore his heart on his sleeve. Rick was an avid sports enthusiast, even after surviving stage 4 cancer in his 50's. He loved skiing, on the water or snow, ice-boating, flying airplanes, and fishing. Rick poured his heart and soul into everything he did; whether rebuilding a car or raising his children, he did it with all of his heart. If you met Rick, you fell in love with his charisma; it was contagious. He made sure his home was always full of laughter, dancing, and music.
Rick was working at a large firm after college, and he yearned for a firm that truly catered to his clients' needs. This developed into a vision of owning a business that focused solely on providing honest, holistic financial advice for people of all ages. Rick incorporated Clark Financial in 1987 in order to do just that. Megan took over all operations in 2015, allowing Rick to stop working and enjoy his family, hobbies, and retirement. Today the company has grown tremendously and will always operate under the fiduciary standard … putting our clients' interests first and foremost.
Rick had a very successful career. He was nominated as an Advisor of the Year in 2011 by Senior Market Advisor Magazine. He continually was recognized by people as a leader in his industry and was always on the cutting edge of finding the best tools for the firm to offer our clients. Rick was a ferocious supporter of various charities and loved all puppies he encountered. He was a pillar of our community, and will be remembered with gratitude. He was greatly loved and will be sorely missed. Rick always celebrated this life, and we will continue to celebrate his life each and every day by taking care of our clients.
His vision of guiding our clients toward a Brighter Financial Future continues to be the foundation of our firm. Our advisors plan and invest with a disciplined approach, which aims to provide reasonable rates of return while minimizing the negative effects of market volatility. We work with you to determine if there is a facet of your financial plan that we may be able to help you with.
We are an independent financial services firm helping individuals create retirement strategies using a variety of investment and insurance products to custom suit their needs and objectives.
Investment Advisory services offered through Brighter Financial Capital Management, LLC, a SEC Registered Investment Adviser. Securities offered through Kalos Capital, Inc., Member FINRA/SIPC located at 11525 Park Woods Circle Alpharetta, GA 30024. Insurance products and services offered through Clark & Associates, Inc. Financial Solutions. Clark & Associates, Inc. Financial Solutions and Brighter Financial Capital Management, LLC, are not affiliated with Kalos Capital, Inc.
Investing involves risk, including the potential loss of principal. No investment strategy can guarantee a profit or protect against loss in periods of declining values. None of the information contained on this website shall constitute an offer to sell or solicit any offer to buy a security or any insurance product.
Any references to protection benefits or steady and reliable income streams on this website refer only to fixed insurance products. They do not refer, in any way, to securities or investment advisory products. Annuity guarantees are backed by the financial strength and claims-paying ability of the issuing insurance company. Annuities are insurance products that may be subject to fees, surrender charges and holding periods which vary by insurance company. Annuities are not FDIC insured.
The information and opinions contained in any of the material requested from this website are provided by third parties and have been obtained from sources believed to be reliable, but accuracy and completeness cannot be guaranteed. They are given for informational purposes only and are not a solicitation to buy or sell any of the products mentioned. The information is not intended to be used as the sole basis for financial decisions, nor should it be construed as advice designed to meet the particular needs of an individual's situation.